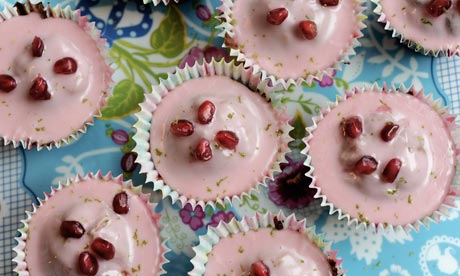 Everyone I mentioned this theme to said the same thing – blancmange! But, to my sneaking regret, no one obliged. Clearly I really am the only person left who likes the stuff.
I was even more disappointed, however, not to be able to try out Mark Edwards' 10-day salt beef recipe, or indeed Neil Grayshon's intriguing "strawberry breasts". But the gorgeous selection below cheered me up no end. Even if you feel, as I do, that you never want to see another cupcake again, I beg you to give these a try. Pretty in pink personified.
The winning recipe pomegranate and lime cupcakes
I'm not necessarily a big fan of the cupcake craze, but I do have a soft spot for pomegranate and lime cupcakes. A moist, sour cream sponge, tangy with pomegranate and lime zest and topped with a vivid pink icing naturally coloured with pomegranate, these cupcakes definitely take the prize for the prettiest thing I baked all last year.
Claire Wilson, South Africa, underthebluegumtree.com
Makes 8
65g unsalted butter, softened90g caster sugar1 large egg, beaten100g plain flour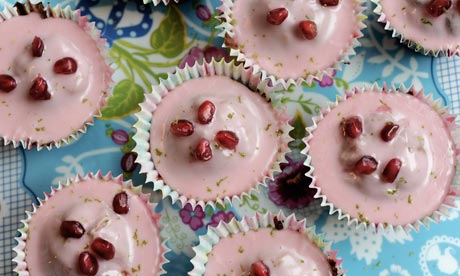 ½ tsp bicarbonate of soda60ml sour cream3 tbsp pomegranate juiceZest of 1 limePaper cake cases
For the icing
135g icing sugar
2 tbsp pomegranate juice
Pomegranate seeds and lime zest
1 Preheat the oven to 180C/350F/gas mark 4 and line a muffin tin with 8 paper cases.
2 Cream together the butter and sugar until fluffy and very pale. Stir in the egg. Sift the flour and bicarbonate of soda together and add to the mixture, along with the cream and juice. Mix to make a soft, smooth batter, then fold through the zest.
3 Divide the mixture between the cases and bake for 20 minutes until risen and springy to the touch. Leave to cool.
4 Beat the icing sugar and juice together until smooth. Dollop a teaspoon on top of each cake and spread with a palette knife. Decorate with pomegranate seeds and a few shreds of lime zest