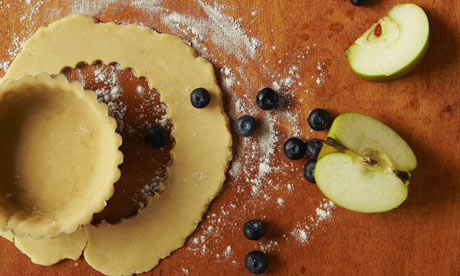 Mucky-mouth pie
A traditional fruit pie from the north of England made with apples, bilberries and fresh mint. The pastry lid is iced, so the fruit needs to be on the sharp side. If you can't get bilberries, you can always use blackcurrants, blackberries or damsons.
Serves 6
225g shortcrust pastry
For the filling
2 large bramley apples
450g bilberries
2 tbsp fresh mint, finely chopped
For the icing
1 large egg white
115g icing sugar
1 Chill the pastry, then roll out half of it. Line a buttered 20cm pie dish with this, prick the base, then chill again.
2 Peel, core and slice the apples, then cook to a puree with a little water. Mix with the bilberries and mint. Sprinkle with a little sugar – not too much because of the sweet icing on top of the pie – and spoon into the pie base.
3 Roll out the rest of the pastry to make a lid and bake the pie in a preheated oven at 200C/400F/gas mark 6 for about 25 minutes, then remove from the oven and leave to cool. Reduce the oven to 180C/350F/gas mark 4.
4 To prepare the icing, whisk the egg white until very stiff, then whisk in the sieved icing sugar until the mixture stands in peaks. Spread thickly over the pie crust and put back in the oven for about 10 minutes, until the icing hardens and is very slightly browned. Serve warm with cream.