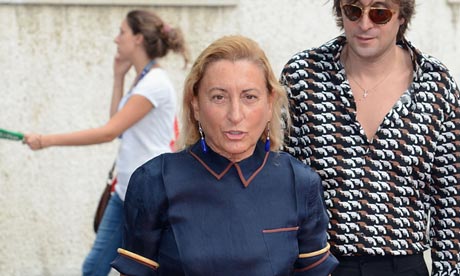 Beppe Severgnini, the Italian writer who has built a stellar career through acutely observing the psychological quirks of his compatriots, admits that even he was stumped by Miuccia
Prada
when he first met her in 2003. "I took her to see Bruce Springsteen in Milan and when she met him after the show, she was in awe of him," he recalled.
Prada, 63, the creative talent behind the global
fashion
juggernaut of the same name, does not resemble the stylish but aloof catwalk habitués who lesser mortals like to think populate the fashion industry. "There is a girlishness in her which makes her different," said Severgnini. "She's wealthy and revered in New York, while museums put on retrospectives about her, but she has this enthusiasm, and she loves it if you can see that."
That enthusiasm for elegant, understated clothing and bags has paid off, as Prada has bucked the downturn to open stores around the world – 63 in the year to last September – and rack up €409m (£352m) in profit in the first three quarters of 2012, a huge rise of 50% year on year, boosted by an increase of 41% in Asian sales