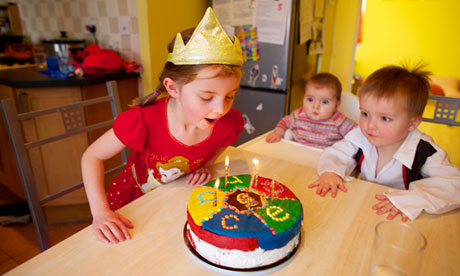 All eyes are on the cake. Photograph: Christopher Thomond for the Guardian
To celebrate, Anna and her husband Jonathan hosted an intimate family gathering for birthday-girl Grace, her brother James and sister Mary, as well as Anna's mother Zofia and sister Julia. The day was also special because it was one of the very first solid meals for Mary, who has just turned six months.
What did you have to eat?
We had our children's favourite Polish food:
pierogi ruskie
– pastry parcels stuffed with cheese, potato and onion, similar to dumplings or ravioli. They are small, mild and moreish: perfect for young children to pick up and eat with their fingers. I also made
golabki
(cabbage leaves stuffed with mince and rice), which I served alongside carrot salad, cucumber salad and gherkins. For dessert we had a multicoloured chocolate birthday
cake
made by Grace's English grandmother, Elizabeth.