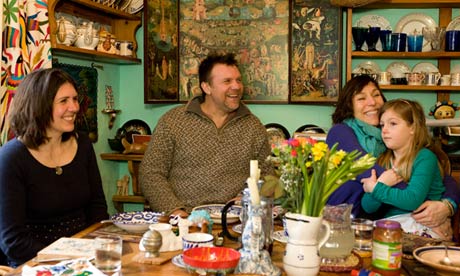 Before their annual voyage, Corinna and her husband, furniture maker Richard Wallace, gathered their two children and their young families together for lunch in Somerset …
What did you have to eat?
The meal centred around one whole poached chicken. In Mexico it would be turkey, but it was difficult to procure one this time around. I poached the chicken with red onions, peppers, chilli, carrots and a bunch of coriander, which gives you the most delicious stock. Mexicans would almost certainly add nopales (prickly pear cactus), which is not especially abundant in Somerset. This formed the base of our first course: a simple soup of chicken stock and vegetables.
I followed that with a traditional Mexican main dish of poached chicken pieces covered in mole, which is made with a variety of chillies, nuts, spices, onion, garlic and unsweetened chocolate. I bought our mole base from the market in Oaxaca but you can also buy it online at coolchile.co.uk. We served the mole with boiled rice followed by a salad of shredded cabbage and tomatoes, dressed in a little lemon juice and oil. Dessert was a simple fruit salad – again, typically Mexican.