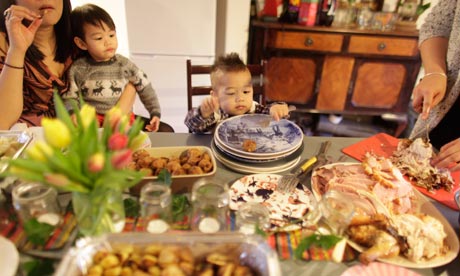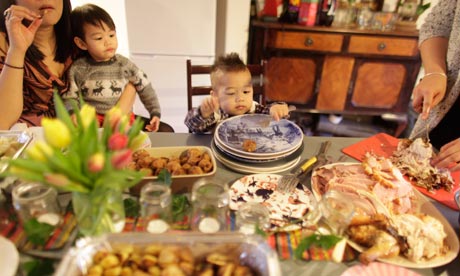 For this London lunch, the eight adults (and five children aged between one and six) each brought a dish with them.
What did you have to eat?
A full English roast! About six times a year, myself and a group of old school friends meet at my mum's house for a traditional Vietnamese meal. This time we decided to give her the day off and opted for something less labour-intensive: roast beef, roast chicken, roast ham, roasted vegetables and lots of gravy. I texted everyone on the guest list a dish to bring. My friend Faye is a fabulous baker, so she provided the dessert: a really impressive homemade vanilla sponge topped with vanilla icing, strawberries, walnuts and shards of chocolate. I made three puff pastry tarts – oh, and there was a partially collapsed strawberry pavlova.
What did you have to drink?
Wine for the adults, fresh fruit juice for the kids – we were looking after the children so the adults weren't drinking much. After the meal, my partner Sasha played his guitar for the kids and they danced and played musical bumps. Needless to say, after everyone left we opened another bottle …
How long did it take you to prepare?
About two hours, including setting up the table with flowers and candles.
Did you have to cater for any special dietary requirements?
Sasha is a vegetarian so I made the puff pastry tarts for him. There were three different toppings: goat's cheese, tomato and basil; mushroom, courgette and parmesan; and mushroom and goat's cheese. The children ate the same as the adults, just in smaller quantities – and with much more gravy.
What did you tal