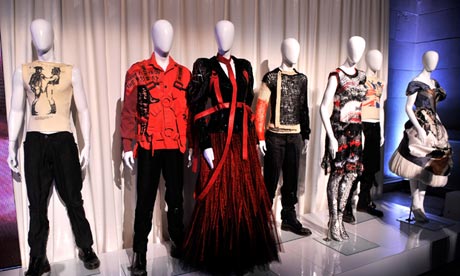 Punk: Chaos To Couture at Metropolitan Museum of Art traces punk fashion from its origins in the 1970s. Photograph: Stephen Lovekin/Getty Images
At any
fashion
week worth its salt there comes a pivotal moment when the gauntlet is thrown down with a display of clothes so shocking that they challenge the status quo and forge a new direction for fashion.
At
New York
fashion week, this moment came not during the presentation of a little-known designer of avant-garde dungarees, but at a press conference in the very heart of the artistic establishment, the Metropolitan Museum.
The event was the launch of the forthcoming exhibition
Punk
: Chaos to Couture. As Andrew Bolton, curator of the museum's Costume Institute, took to his Upper East Side podium he was flanked on his left by the infamous Two Naked Cowboys T-shirt by Vivienne Westwood and Malcolm McLaren, which caused artist Alan Jones to be arrested for indecency while wearing one walking through Piccadilly Circus in 1975. On Bolton's right was the Versace "safety pin" dress that transformed Liz Hurley into A-list star overnight in 1994.